Cardano NFT collection
by: nullHashPixel,
MINTING NOW!


A collection of 9999 unique crypto butterflies on the Cardano blockchain minted as animated on-chain NFTs.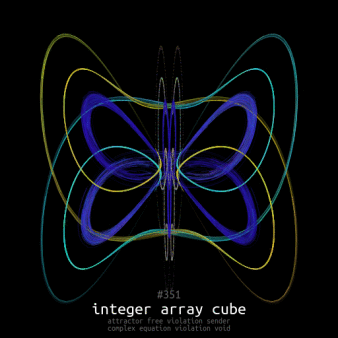 About
The beauty of nature, generated by mathematical equations, encoded in transactional metadata in the Cardano blockchain. The entire code to produce the animation is encoded in the blockchain for each butterfly. Wallets currently only show the picture (from IPFS), animations can be viewed with a block explorer, e.g.
pool.pm
. The policyId is given below, make sure to verify it before buying at market places.
policy Id:

f3a65485a9201e979e03aa4fa9f1d544332b7b8440bcd4aa4c6f7d1d
How to buy
1) Mint numbers are random.
Picking a specific butterfly is not possible.
2) The collection is limited to 9999 butterflies.
3) There are two methods to buy the NFT:
nft-maker PRO payment window
and
nft-maker PRO pay-in address
.
4) Due to high blockchain congestion, it can take up to a few minutes until your NFT(s) arrive. Do not close the pop-up window until the NFTs have arrived.
To use the
nft-maker PRO payment window
click this button to open a pop-up:
buy 1 NFT for 14 ADA
buy 2 NFTs for 28 ADA
OR
To use the
nft-maker PRO pay-in address
, carefully read and follow the instructions below:
1)
DO NOT
send ADA directly from exchanges.
Only use wallets you control (Yoroi, Daedalus, Nami etc.).
2) One butterfly effect CNFT costs 14 ADA. To buy two, send exactly 28 ADA.
Maximum 2 per transaction, no restrictions per wallet.
3) Send the
exact
amount of ADA to the payment address below.
Wrong amounts will be sent back minus transaction fees.
4) The NFTs are sent back to you immediately, including a deposit of 2 ADA.
In case of blockchain congestion, delays can occur.
Use the
nft-maker PRO payment window
method to have reservation.
| | |
| --- | --- |
| Number of NFTs | Price (ADA) |
| 1 | 14 |
| 2 | 28 |
pay-in wallet address (read instructions):
addr1v99x762m0g30w45vsgya9m87vp79unasthqwse6lcdf6z7su5zuh7
This counter might be delayed, to check how many NFTs have been minted, use
Cardanoscan
Animation example
Statistics
Number of NFTs
9999
Number of different
color schemes
2: 11 (0.1%)
3: 206 (2%)
4: 2111 (21%)
5: 4865 (49%)
6: 2806 (28%)

Shiny

yes: 210 (2.1%)


no: 9789 (97.9%)
Contains the word butterfly
yes: 520 (5.2%)
no: 9479 (94.8%)
Symmetric wing colors
yes: 87 (0.8%)
no: 9912 (99.2%)
The rare
shiny
butterflies have a special effect in the picture and also in the animation,
and contain the word shiny in the title. Example: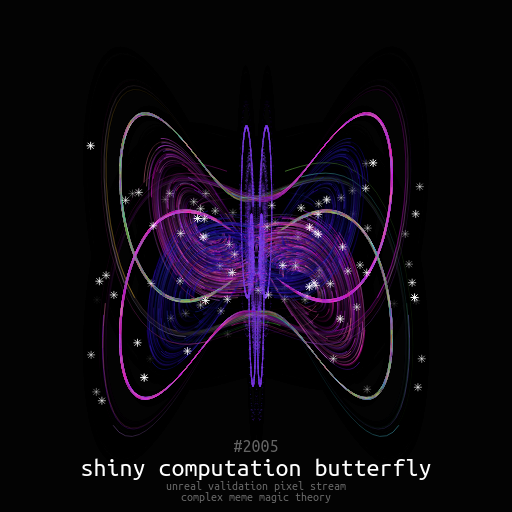 Preview of the full gallery
A more advanced viewer with search for specific attributes and check of mint status will be added after launch.
Other infos
follow me on twitter: twitter.com/nullHashPixel
supported browsers to view animations: in theory all modern browsers, tested with Chrome, Firefox under Windows, Ubuntu and Mac OSX. On very old hardware, animations will run slower.
no refunds possible
sales/payments/refunds(wrong amounts etc.) are processed via nft-maker.io PRO platform
no royalties apply for resale, you are free to sell the NFTs on platformas like CNFT.io